Couples looking for Mendocino, California honeymoons that are full of romance and adventure will love our beautiful Mendocino B&B. From the breathtaking coastal views, hikes through lush redwood forests, to award-winning local wineries, you will savor every moment of your stay at our Mendocino bed and breakfast.
If the smallest details mean as much to you as the big gestures do, our Mendocino Coast bed and breakfast will speak to your heart. Start each day by savoring breakfast in bed and let yourselves be pampered and immersed in the honeymoon experience! Now that you've fallen in love with each other, why not fall in love with Mendocino together?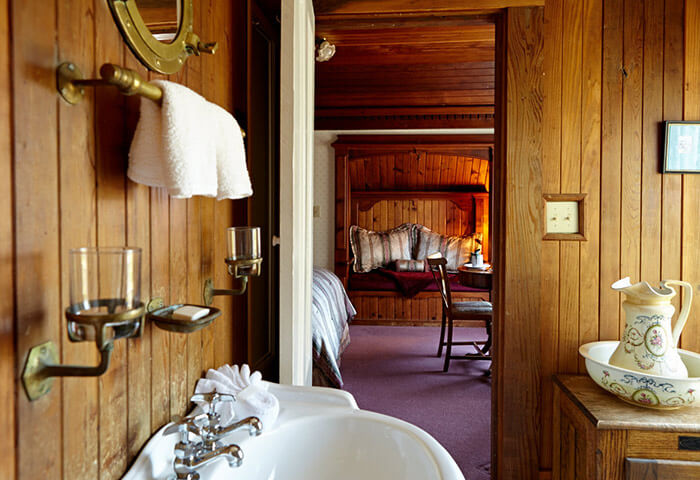 Romantic Rooms
Let us take care of you so you can fully enjoy your honeymoon together. Stay in one of our charming rooms or suites and enjoy thoughtful amenities, including breakfast delivered to your door, complimentary Wi-Fi internet, and high end linens and towels. Many of our rooms also offer luxury touches such as spa tubs and wood burning fireplaces. There's something for everyone here. Explore all our rooms and choose your favorite!
Special Touches
Have fresh flowers or a sweet treat delivered to your door with our "Special Chocolate Surprise for Your Sweetie" Package. You can choose which combination you'd like, but the chocolate dipped strawberries with a bottle of Roederer Brut Champagne is one of our favorites. For the ultimate relaxation experience, you can also book a couple's massage in the privacy of your own room. We are happy to help you plan any special surprises!
Food Lover's Paradise
The Mendocino Coast is known for excellent dining with many restaurants featuring local, organic produce and fresh caught seafood. The village of Mendocino offers a broad selection of restaurants from local pubs to Wine Spectator award-winning dining destinations, but there are also several hidden gems outside of tourist hot spots we'd be happy to introduce you to. As part of the impeccable service we are known for, we will mail you a list of our favorite restaurants when you make your room reservation.
Wine Country
Set aside an afternoon (or two) and take the scenic drive through the Redwoods along Highway 128 to Anderson Valley where you can explore gorgeous Northern California vineyards. Mendocino County offers many award-winning wines of popular varietals, including a Riesling, Chardonnay and Pinot Noir. If you are interested in wine tasting let us know and we will be happy to send you more information, or help you book a chauffeured tour of the Mendocino wine country!
Hiking & Biking
Get some California sunshine and set out on a hike or bike ride. There are endless miles of trails near our Mendocino bed and breakfast waiting to be discovered, including beautiful redwood forests, coastal bluffs, tide pools, and waterfalls. Take on the Mendocino Coastal Trail and enjoy over 130 miles of trails with ocean views. We recommend The Hiker's Hip Pocket Guide as a great resource for making your plans – we even have a copy you can check out in the parlor.
Attractions
There are lots of things to do; just remember to leave some time just to relax in our gardens or take a romantic stroll down to our secret beach! Spend an afternoon exploring the village of Mendocino, home to a myriad of local art galleries, shops and museums. Just a few minutes further up the coast, you don't want to miss the historic Point Cabrillo Lighthouse, the beautiful Mendocino Coast Botanical Gardens, and the famous Skunk Train. See the sights and make memories that will last a lifetime!